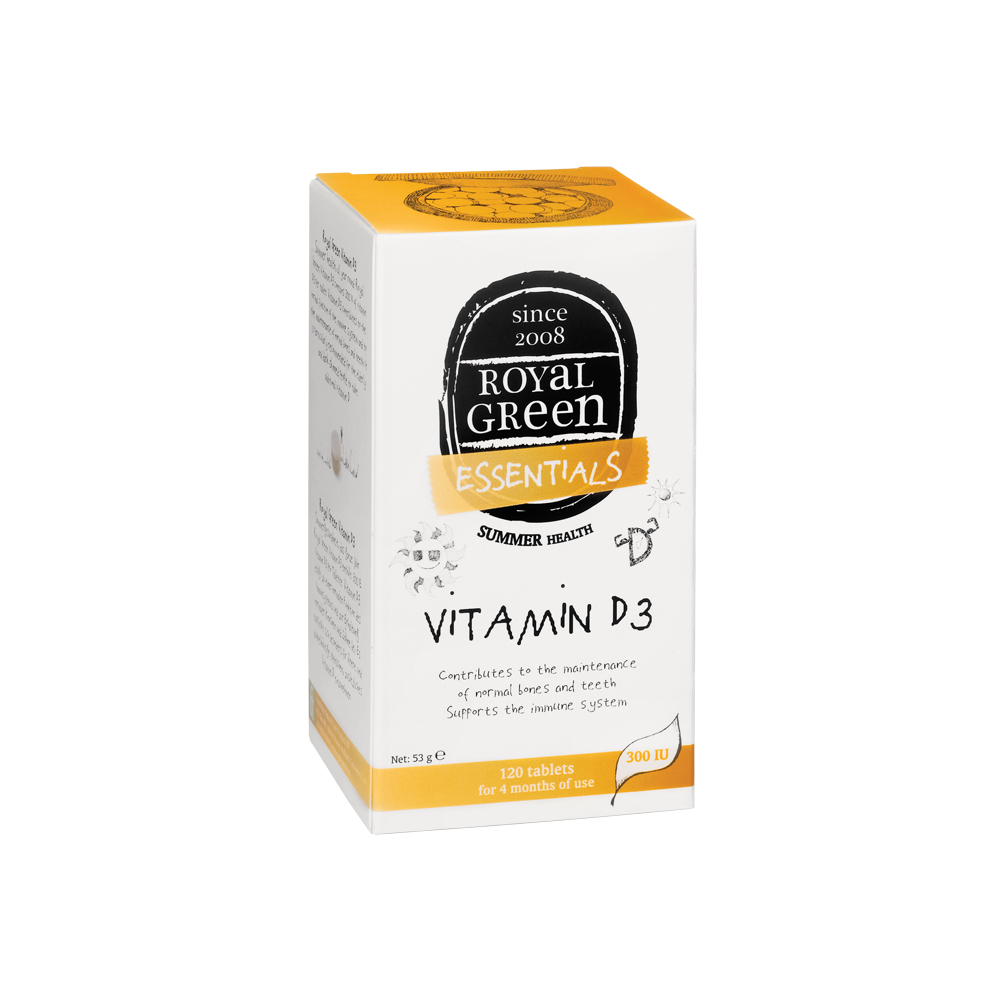 Vitamin D3
NOP Organic certified vitamin D3
Summer health, all year round. A large percentage of the population can use a vitamin D supplement. Especially to pregnant women, children, elderly and people with a dark skin color, extra vitamin D is recommended. Usually in the winter months when the sun barely shines or does not show itself at all, it is important to take vitamin D3. Royal Green vitamin D3 is a full spectrum fermented vitamin D3 and contains 300 IU/7,5 ug (150% recommend daily allowance) vitamin D3 per tablet. The fermentation process makes it extra active and effective.
Suggested use: 1 tablet per day, preferably with a meal.
Ideal to combine with: Multi Gold/Mini Caps Multi/ Multi Man/Woman, Maca, Magnesium and Fish oil/Algae oil.
Available in: 120 tablets.
Characteristics
NOP Organic certified (NOP: National Organic Program of the USA).

Provides fermented vitamin D3.

Naturally gluten free.
Applications
Vitamin D3 contributes to the normal function of the immune system.
Vitamin D3 helps in the maintenance of normal bones.
Vitamin D3 contributes to a normal functioning of the muscles.
Vitamin D3 helps in the maintenance of normal teeth.
Vitamin D3 helps in the normal absorption of calcium and phosphorus.
Vitamin D3 plays a role in the process of cell division.
At Royal Green we do everything we can to ensure that the online product information of the products is as accurate as possible. But because products are regularly improved or adjusted, product information about ingredients, nutritional values, dietary or allergy information may change. We therefore recommend that you always read the packaging first before using the product.