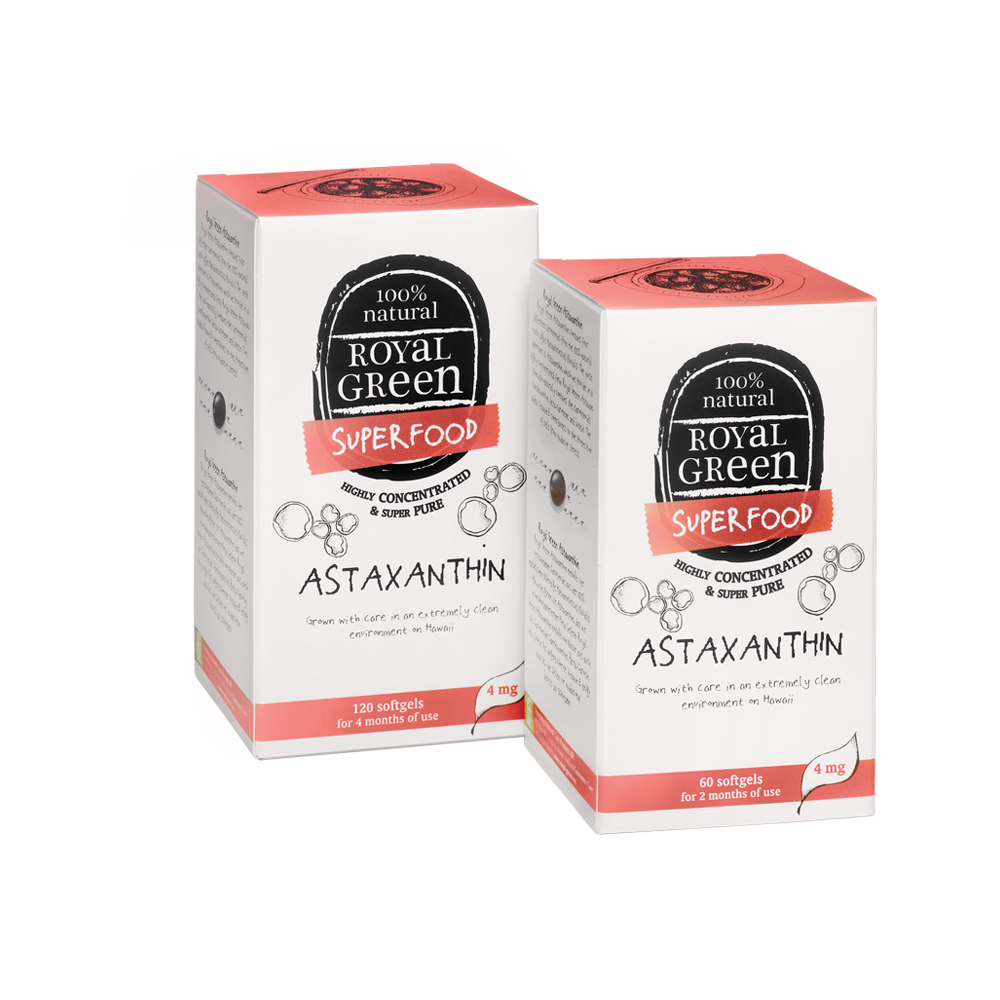 Astaxanthin
100% full spectrum Astaxanthin food supplement
Royal Green Astaxanthin comes from the 100% natural green micro algae Haematococcus pluvialis. Royal Green Astaxanthin is grown in an extremely clean GMP certified environment in Hawaii. The algae is absolutely free of chemical additives. After harvesting, it is extracted according to the highest quality standards using a unique supercritical extraction process. This results in a super pure, broad spectrum and highly concentrated product. Royal Green Astaxanthin also naturally contains the carotenoids canthaxanthin, beta-carotene and lutein.  
Suggested use: 1 capsule per day.
Warning: This food supplement should not be consumed by children younger than 14 years.
Ideal to combine with: Multi Gold/Mini Caps Multi/Multi Man/Woman, Green-Lipped Mussel complex, Turmeric complex and Fish oil/Algae oil.
Available in: 120 & 60 softgels.
Characteristics
100% full spectrum astaxanthin.
Highly concentrated (by CO2 extraction).
From Hawaii.
Naturally gluten free.
Applications
Contains vitamin E that contributes to the protection of cells from oxidative stress.
A varied and balanced diet and a healthy lifestyle are important.
At Royal Green we do everything we can to ensure that the online product information of the products is as accurate as possible. But because products are regularly improved or adjusted, product information about ingredients, nutritional values, dietary or allergy information may change. We therefore recommend that you always read the packaging first before using the product.