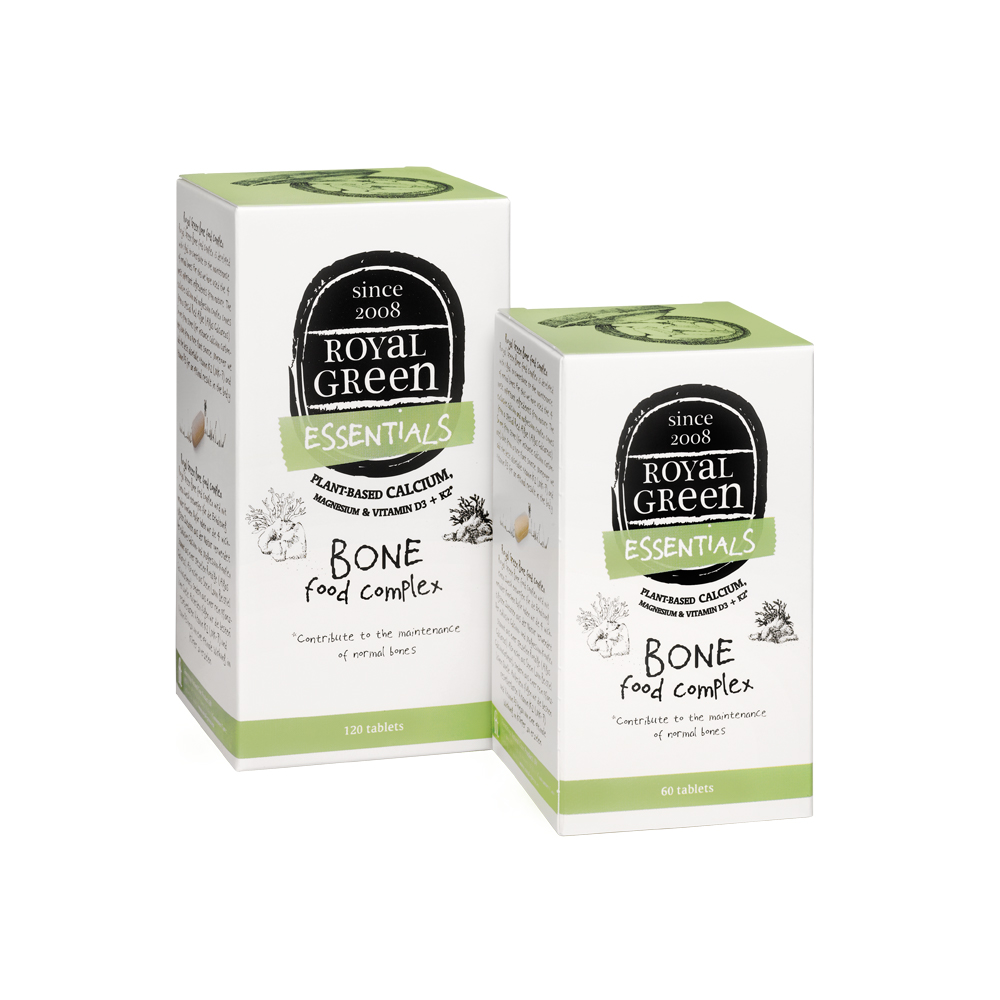 Bone Food Complex
Vegetable calcium, magnesium, vitamin D3 & K2
Royal Green Bone Food Complex is developed with 1 goal: to contribute to the maintenance of normal bones. For this purpose we have used the 4 most important ingredients from nature. The exclusive calcium and magnesium complex comes from a special red algae (Algas calcareas). So not from stone (for instance calcium carbonate), but from a pure plant source. Then we add the best absorbable vitamin K2 (MK-7) and vitamin D3 for an optimal result in the body.
Suggested use: 1-3 tablets per day, preferably with a meal.
Ideal to combine with: Multi Gold/Mini Caps Multi/Multi Man/Woman, Green-Lipped Mussel complex, Fish oil/Algae oil and Astaxanthin.
Available in: 120 & 60 tablets.
Characteristics
Provides calcium and magnesium from red algae (not from stone).
With vitamin D3 and K2 for optimal transport and absorption of the calcium and magnesium.
Naturally gluten free.
Applications
Calcium, magnesium, vitamin D and vitamin K contribute to the maintenance of normal bones.
Calcium, magnesium and vitamin D contribute to a normal functioning of the muscles.
Calcium, magnesium and vitamin D contribute to the maintenance of normal teeth.
Vitamin D contributes to the normal functioning of the immune system.
Vitamin K contributes to a normal blood clotting.
At Royal Green we do everything we can to ensure that the online product information of the products is as accurate as possible. But because products are regularly improved or adjusted, product information about ingredients, nutritional values, dietary or allergy information may change. We therefore recommend that you always read the packaging first before using the product.