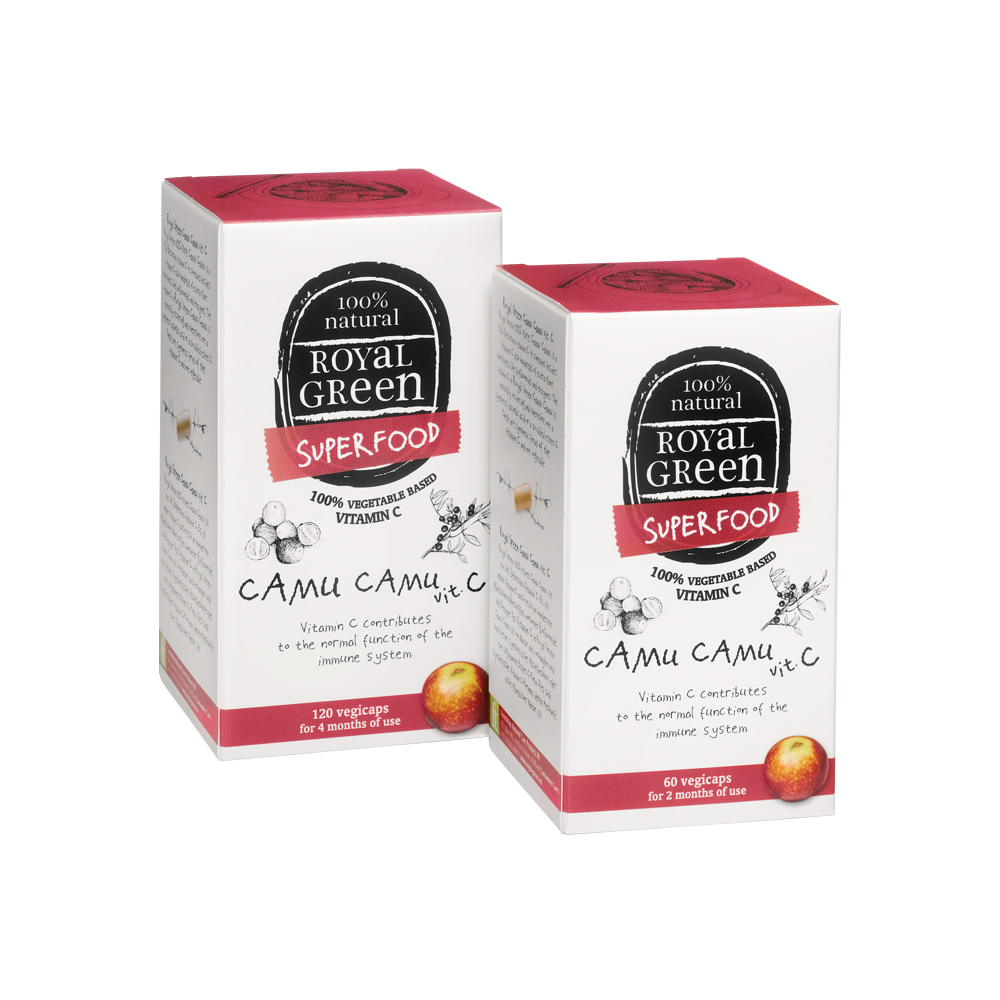 Camu Camu vit. C
100% full spectrum vitamin C
Camu Camu is a small tree that can be found all over the Amazon region of Peru. Royal Green 100% pure Camu Camu is a full spectrum vitamin C. Besides vitamin C, it also contains hundreds of other beneficial nutrients, such as bioflavonoids and enzymes. The vitamin C in Royal Green Camu Camu is naturally occurring and therefore not a synthetic ascorbic acid or a so-called ester-C.
Is the vitamin C you are using really natural? Probably not! Ninety-nine percent of all vitamin C supplements on the market are synthetic. Some examples of synthetic vitamin C are ascorbic acid, calcium ascorbate (ester-C) or potassium ascorbate. These are synthetic forms of vitamin C and not plant-based!
Suggested use: 1 capsule per day, preferably with a meal.
Ideal to combine with: Multi Gold/Mini Caps Multi/Multi Man/Woman, Vitamin D3, Spirulina and CoQ10.
Available in: 120 & 60 vegicaps.
Characteristics
100% wild crafted in the Amazone area.
Full spectrum vitamin C (60-80 mg vitamin C per capsule).
30:1 concentration (highest in the world).
Free of fillers (such as maltodextrin & manioc root).
100% vegetarian & vegan.
Naturally gluten free.
Applications
Vitamin C contributes to the normal function of the immune system.
Vitamin C contributes to the protection of cells from oxidative stress.
Vitamin C contributes to the reduction of tiredness and fatigue.
Vitamin C supports the normal functioning of the nervous system.
At Royal Green we do everything we can to ensure that the online product information of the products is as accurate as possible. But because products are regularly improved or adjusted, product information about ingredients, nutritional values, dietary or allergy information may change. We therefore recommend that you always read the packaging first before using the product.