Coconut Ghee
Certified organic extra virgin coconut oil & ghee
The combination of our extra virgin coconut oil with ghee is a true love story. We use 75% cold pressed extra virgin coconut oil with 25% ghee. Our certified organic ghee comes from Dutch cows and gives it a wonderfully rich buttery flavour. Simply one of the world's finest cooking oils. Enjoy it!
Ghee
Ghee is clarified butter in which the proteins, salts and a large part of the moisture have been removed. Ghee has been used for centuries in India and is an important ingredient in Ayurvedic cooking. Ghee is suitable for people who are sensitive to lactose. Just like our cold pressed coconut oil, it is an ideal cooking oil.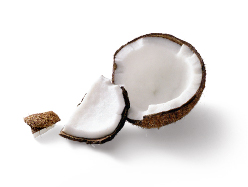 Available in: 325 ml.
Characteristics
100% certified organic.
Coconut oil is pressed within 24 hours after harvest.
Ghee from Dutch cows.
Controlled purity.
Retains all its good qualities when heated.
Sustainably grown.
Applications
Ideal cooking oil (baking, roasting,
frying and deep-frying).
Substitute for olive oil, butter or margarine.
For a delicious gravy (gives a buttery flavour).
At Royal Green we do everything we can to ensure that the online product information of the products is as accurate as possible. But because products are regularly improved or adjusted, product information about ingredients, nutritional values, dietary or allergy information may change. We therefore recommend that you always read the packaging first before using the product.