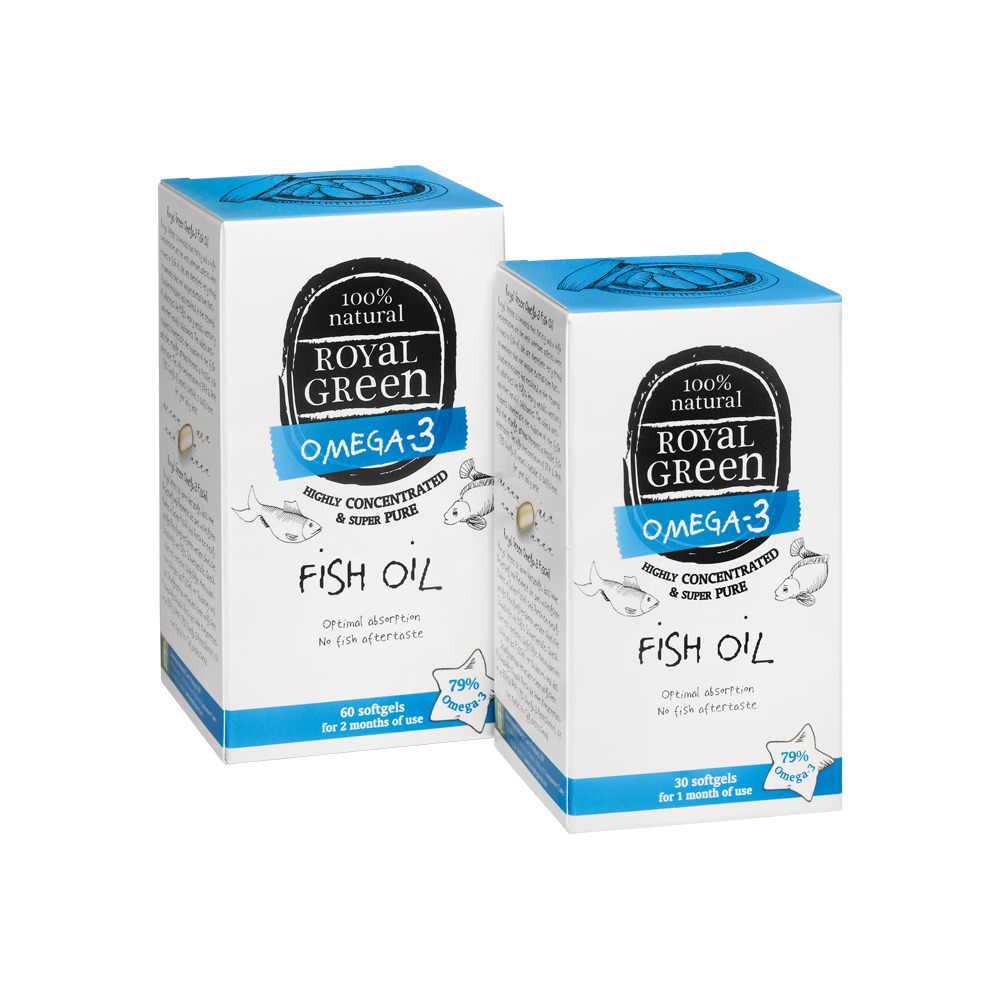 Fish oil
Friend of the Sea sustainably caught fish oil
For Royal Green the two main points for a fish oil are purity and high concentration. No expense is spared when it comes to purity. We are therefore proud to announce that our unique extraction purification process removes impurities like PCB's, heavy metals and other harmful substances from our fish oil.
The result is a pure, broad and highly concentrated fish oil which is supplied in the most natural form. Additional antioxidants counteract oxidation and a natural orange flavour prevents a fishy aftertaste. Contains 79% omega-3 (530 mg EPA,   160 mg DHA & 100 mg other omega-3) per capsule.
Friend of the Sea certificate
By working closely with our fish oil partners we have knowledge of and control over the entire supply chain: from catching the fish up to the finished product. This guarantee is very important so we can be sure you will receive an extremely pure and highly concentrated quality product. The certification ensures that the fishing itself is managed according to sustainable criteria and that the fish species are not overfished.
Suggested use: 1 capsule per day, preferably with a meal.
Ideal to combine with: Multi Gold/Mini Caps Multi/Prenatal/Multi Woman/Man, Turmeric complex, Green-Lipped Mussel complex, CoQ10 and Astaxanthin.
Available in: 30 & 60 softgels.
Characteristics
Friend of the Sea certificate for sustainable fishing.
Super concentration (no less than 79% omega-3).
Patented purity.
Capsule made of fish gelatine (100% fish product).
Applications
EPA and DHA contribute to the normal functioning of the heart. *
* This beneficial effect is obtained with a daily intake of 250 mg EPA and DHA.
At Royal Green we do everything we can to ensure that the online product information of the products is as accurate as possible. But because products are regularly improved or adjusted, product information about ingredients, nutritional values, dietary or allergy information may change. We therefore recommend that you always read the packaging first before using the product.