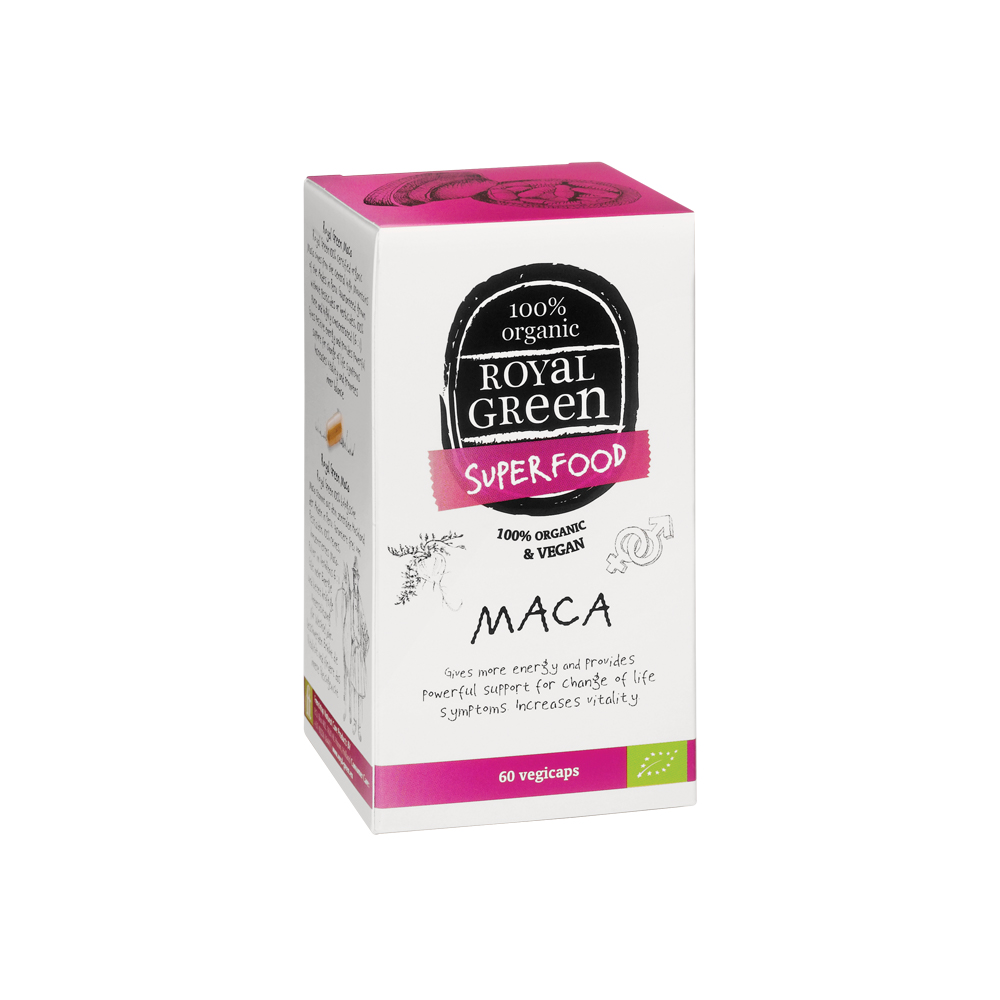 Maca
100% certified organic maca
Maca (Lepidium meyenii Walp.) is a root crop that grows in the Andes of Peru at 3500 – 4300 meter altitude. This makes maca the highest grown plant in the world! After allowing the maca to grow for about 8 months, the Royal Green maca is harvested. After the harvest the certified organic maca is dried and hand selected on size and colour (black, purple & yellow). We use 80% black, 15% purple & 5% yellow maca roots. This provides the widest profile of active nutrients possible, offering a maximum effect.
The pure Royal Green production process results in a certified organic maca which is concentrated under a maximum temperature of 45 degrees Celcius. While maca is a well-known plant, not many people have discovered its whole potential. The reason is that most products that are available, are basically the same low quality, light yellowish, sweet smelling maca powders. These are usually not certified organic, are extracted using high temperatures and contain fillers (corn & rice powder) and sometimes even maltodextrin or sugar! Royal Green delivers a 'raw', highly concentrated (6:1) & 100% certified organic maca. Produced at low temperature, not irradiated and free of fillers.
Suggested use: 1-3 capsules per day, preferably with a meal.
Ideal to combine with: Multi Gold, Vitamin B complex, Vitamin B12, Ashwagandha, Vitamin D3 and Spirulina.
Available in: 60 vegicaps.
Characteristics
100% certified organic.
Maca from the high mountains of Peru.
80% black, 15% purple and 5% yellow maca roots.
High 6:1 concentration.
100% vegetarian & vegan.
Naturally gluten free.
Applications
Provides support for stress, tension and fatigue.*
In the case of transitional phenomena, hot flashes and mood swings during the transition.*
Helps to increase vitality.*
Maca is also called the Peruvian ginseng.
A varied and balanced diet and a healthy lifestyle are important.
*Health claim for plants pending European approval.
At Royal Green we do everything we can to ensure that the online product information of the products is as accurate as possible. But because products are regularly improved or adjusted, product information about ingredients, nutritional values, dietary or allergy information may change. We therefore recommend that you always read the packaging first before using the product.