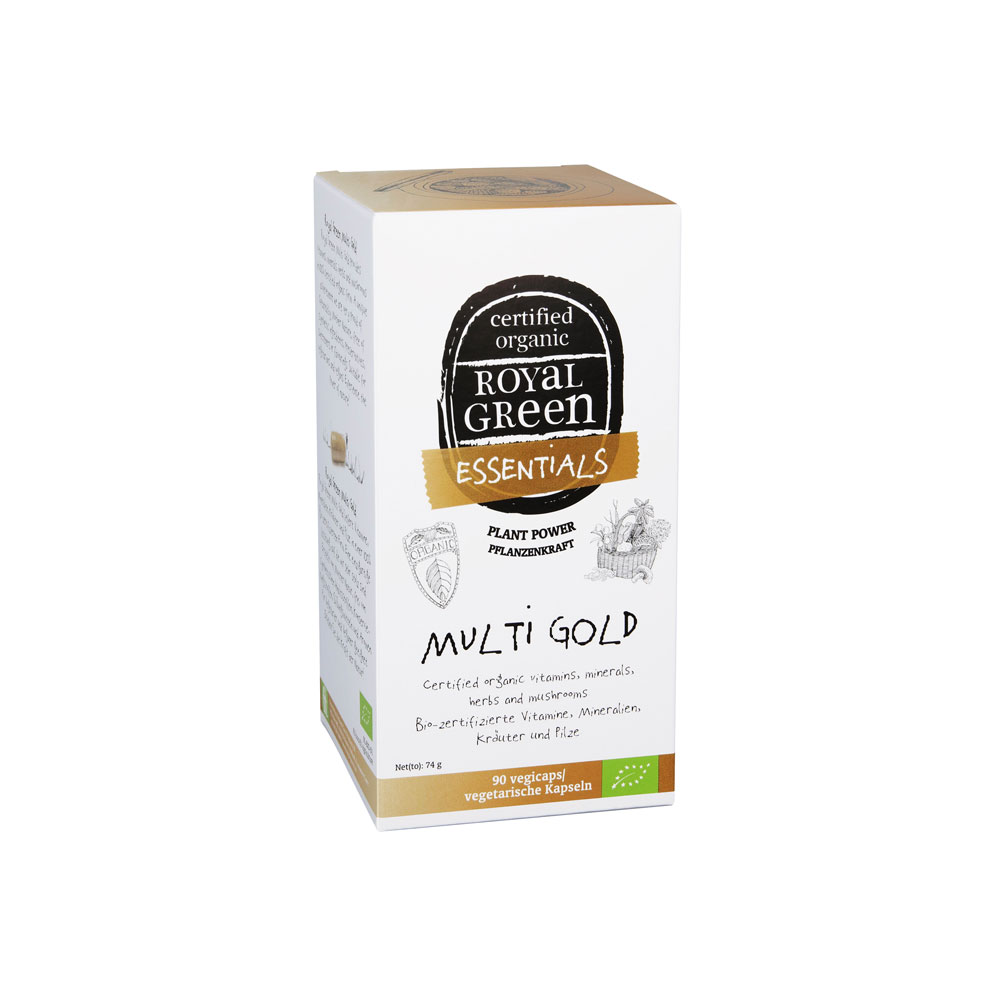 Multi Gold
Certified organic energy & stress­ 1 multi vitamins & minerals complex
Royal Green Multi Gold provides vitamins, minerals, herbs and mushrooms in 100% certified organic form. The specially added herbs and mushrooms provide an even wider and more powerful activity of our certified organic multi.
For natural energy²
A rich complex with organic ginseng, reishi, shiitake, maitake, green tea, vitamins and minerals. Ginseng² provides more energy.* Magnesium, vitamin B5, vitamin B6, folate and vitamin C contribute to the reduction of tiredness and fatigue.
For a balanced mind1
A special complex with organic ashwagandha, maca, rhodiola, reishi, shiitake and maitake. Ashwagandha1 and rhodiola1 provides support during stress and tension.* Maca helps to increase vitality.*
Suggested use: 2-4 capsules per day, preferably with a meal.
Ideal to combine with: Vitamin B12, Fish oil/Algae oil, Green-Lipped Mussel complex, Astaxanthin and CoQ10.
Available in: 90 vegicaps.
Characteristics
Certified organic.
Provides 18 different organic vitamins and minerals.
With 9 full spectrum herbs and plants.
With 3 organic mushrooms.
100% vegetarian and vegan.
Naturally gluten free.
Applications
Reishi*, vitamin C and iron contribute to the normal function of the immune system.
Calcium, vitamin D and magnesium help in the maintenance of normal teeth and bones.
Vitamin C is good for the concentration.
Selenium is good for the maintenance of normal hair and nails.
Turmeric helps to maintain supple joints.*
A varied and balanced diet and a healthy lifestyle are important.
*Health claim pending European approval.
At Royal Green we do everything we can to ensure that the online product information of the products is as accurate as possible. But because products are regularly improved or adjusted, product information about ingredients, nutritional values, dietary or allergy information may change. We therefore recommend that you always read the packaging first before using the product.