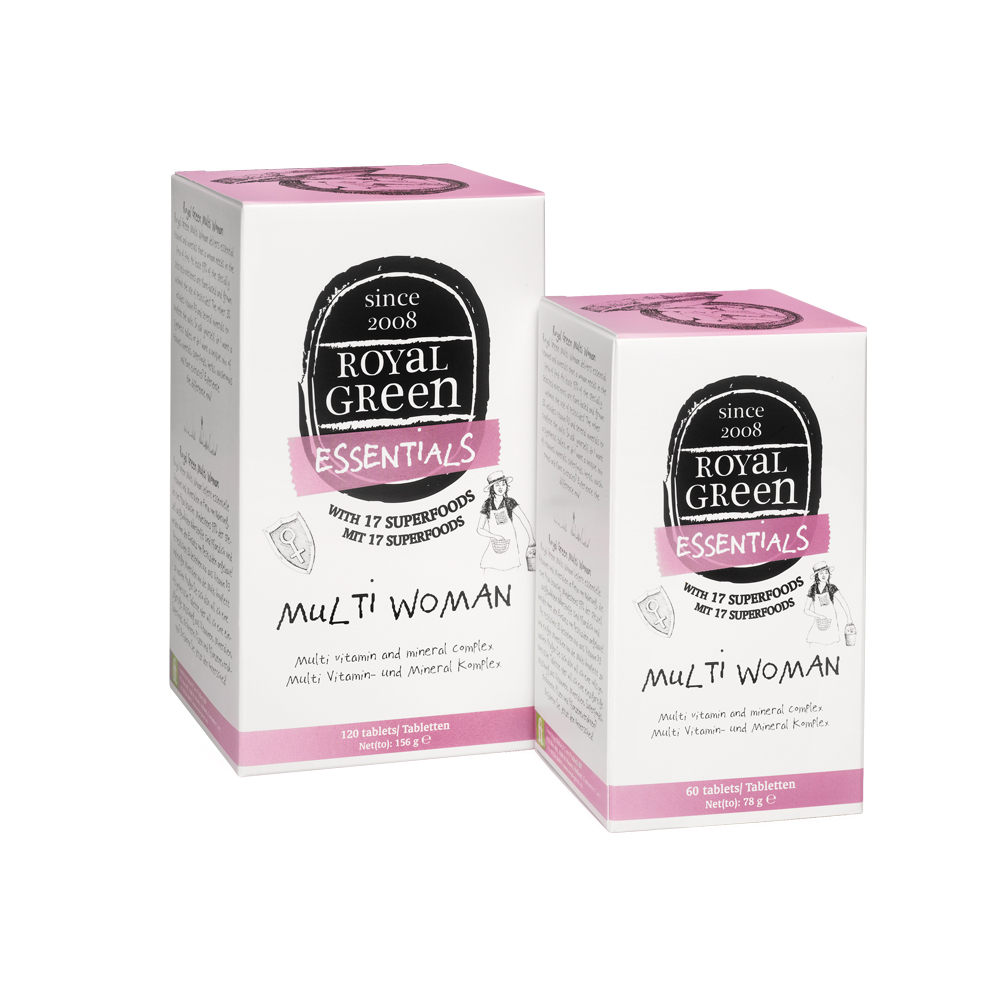 Multi Woman
NOP Organic certified multi vitamins & minerals complex especially for women
Royal Green Multi Woman delivers essential vitamins and minerals that a woman needs in the form of food. Our vitamin C comes from acerola berries, several B vitamins from a unique blend of guava, holy basil and lemon peel and our selenium from mustard seeds. Besides this we deliver no less than 17 superfoods, of which dong quai (Chinese angelica), chaste tree (monk's pepper), rhodiola, turmeric, ginger, black currant, spirulina, pomegranate, reishi and many more! Of course all grown without the use of pesticides.  
Suggested use: 2-4 tablets per day, preferably with a meal.
Ideal to combine with: Magnesium, Flora Gold, Fish oil/Algae oil, Astaxanthin, CoQ10 and Iron complex.
Available in: 120 & 60 tablets.
Characteristics
NOP Organic certified (NOP: National Organic Program of the USA).
Provides 22 different vitamins & minerals from food.
With 13 full spectrum herbs & plants.
With 4 mushrooms.
Naturally gluten free.
Applications
Vitamin C, vitamin D, iron and

reishi* contribute to the normal 

function of the immune system.

Calcium helps to maintain strong bones.
Vitamin B12, vitamin C and iron contribute to the reduction of fatigue.
Zinc is good for the condition of the hair.
Rhodiola contributes to the resistance against temporary stress.*
Selenium, vitamin E and vitamin B2 contribute to the protection of cells from oxidative stress.
A varied and balanced diet and a healthy lifestyle are important.
*Health claim pending European approval.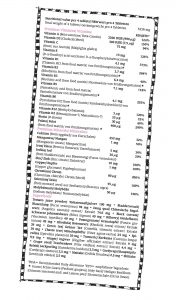 At Royal Green we do everything we can to ensure that the online product information of the products is as accurate as possible. But because products are regularly improved or adjusted, product information about ingredients, nutritional values, dietary or allergy information may change. We therefore recommend that you always read the packaging first before using the product.