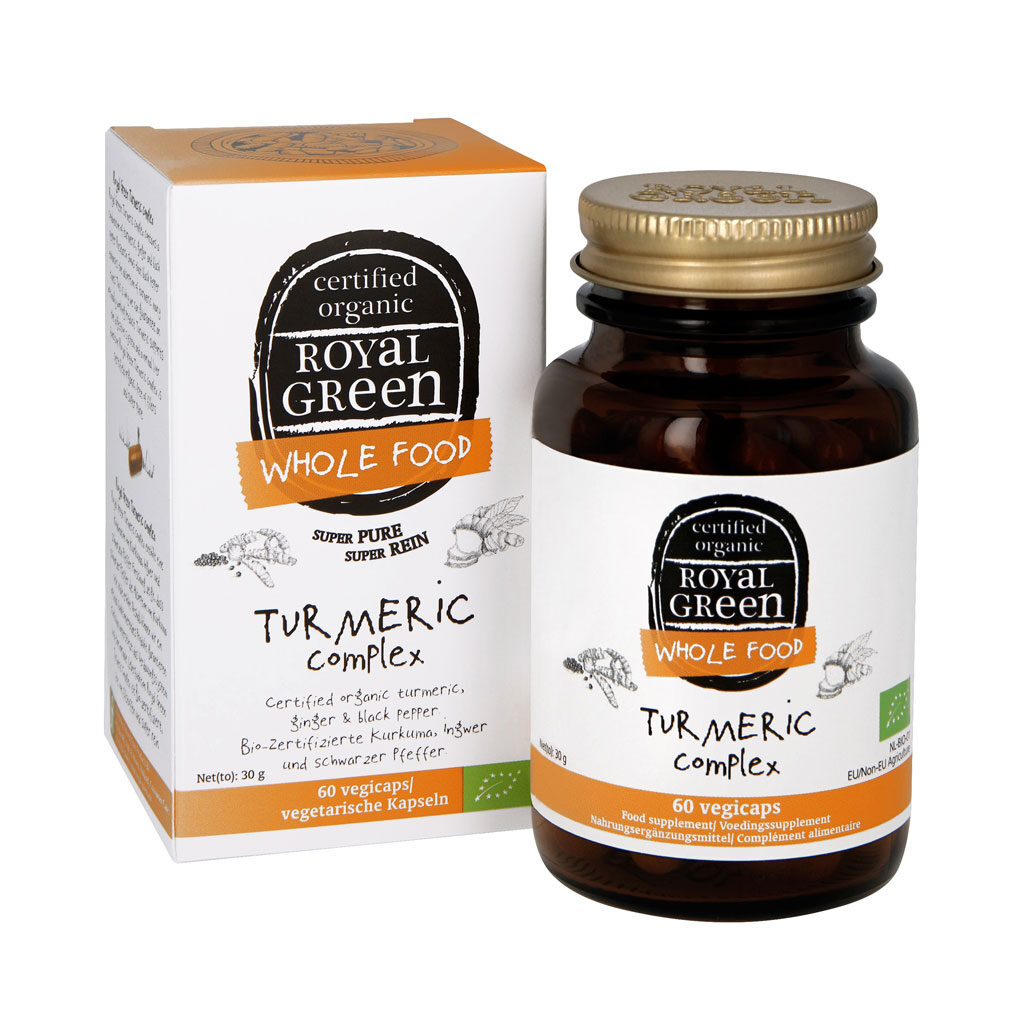 Turmeric complex
100% certified organic turmeric, ginger & black pepper
Royal Green Turmeric complex contains a combination of turmeric, ginger and black pepper. Research shows that black pepper significantly enhances the absorption of turmeric. We can therefore guarantee optimal efficacy. Royal Green Turmeric complex is certified organic, free of fillers and super pure.
Full spectrum turmeric
Important to know: curcumin is not turmeric! Curcumin is 1 nutrient from turmeric and is often provided in standardised form. The idea is that curcumin does everything and that all other nutrients from turmeric do not have any effect. Curcumin is isolated by means of acetone (nail polish remover), hexane and/or extreme heat. It is obvious that we do not do this at Royal Green. We believe in the whole, as Mother Nature has intended it. We only use full spectrum turmeric. This guarantees that all nutrients are provided.
Suggested use: 1-2 capsules per day, preferably with a meal.
Ideal to combine with: Multi Gold/Mini Caps Multi/Multi Woman/Man, Green-Lipped Mussel complex, Fish oil/Algae oil and Astaxanthin.
Available in: 60 vegicaps.
Characteristics
100% certified organic.
5:1 concentration.
Black pepper activates the uptake of turmeric.
100% vegetarian & vegan.
Naturally gluten free.
Applications
Turmeric contributes to the normal function of the immune system and the protection of cells from oxidative stress.*
Turmeric supports the digestive system and a
normal liver function.*
Turmeric also helps to maintain supple joints.*
Ginger has a stomach-strengthening influence.*
A varied and balanced diet and a healthy lifestyle are important.
*Health claim for plants pending European approval.
At Royal Green we do everything we can to ensure that the online product information of the products is as accurate as possible. But because products are regularly improved or adjusted, product information about ingredients, nutritional values, dietary or allergy information may change. We therefore recommend that you always read the packaging first before using the product.